Friends and Family Referral Rewards
Benefiting Disabled American Veterans
Benefiting Pennsylvania Seniors
And a Chance for YOU to Win $2,500 or More
Scratch off lottery tickets benefiting seniors plus $5 in your name to a wounded veteran charity organization when referring people who need all types of insurance quotes (personal or commercial). You could win a maximum lottery payment of $2,500!
If they need commercial insurance quotes, your name will be entered for a chance to win either $100 or a $50 gas card. Each drawing of ten (10) entries gives you a 1:10 chance to win.


Then your name will be entered for a chance to win $300 on the year end drawing in Dec.
The more people you refer the more chances to win lottery and drawings. Winners are listed below on this page and on our Facebook page:

Partner with Premier Referral Rules: No purchase is necessary. Referral amounts are unlimited and this program is open to everyone. You do not have to be present at the drawing to win. Drawings are monitored by a member of the Charles P Elliott, PC accounting firm. Premier Group Insurance, LLC employees, agents, Partner with Premier program captive and independent agents are not eligible.
---
Our insurance customer Andre Oliver which we insure his daycare, Perseck Decision Academy, referred a customer to us. Thank you Andre for your confidence with referring your friends to our agency.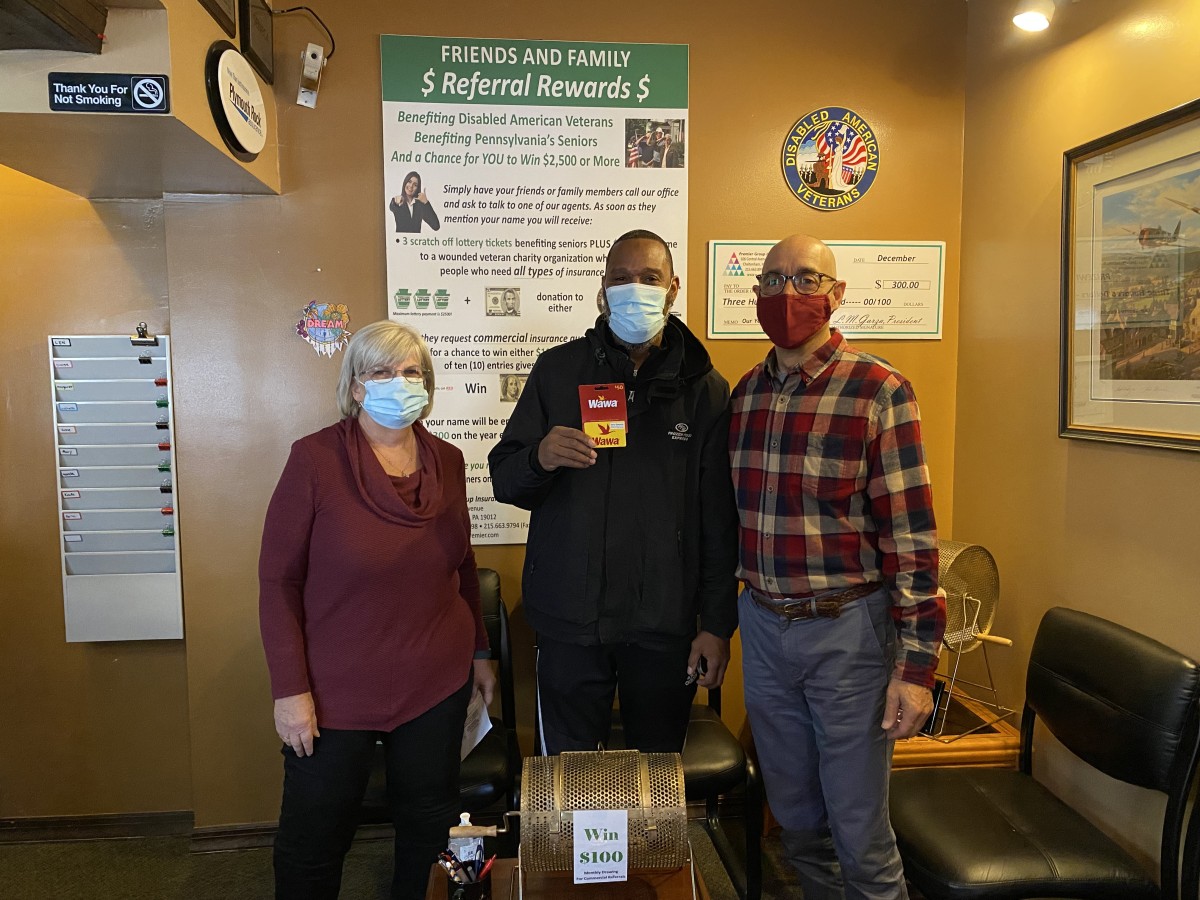 ---
Our insurance customer with the most beautiful name, Fontenelle Philogene, is our Spring $100 Winner! Thank you Fontenelle for your confidence with referring your friends to our agency.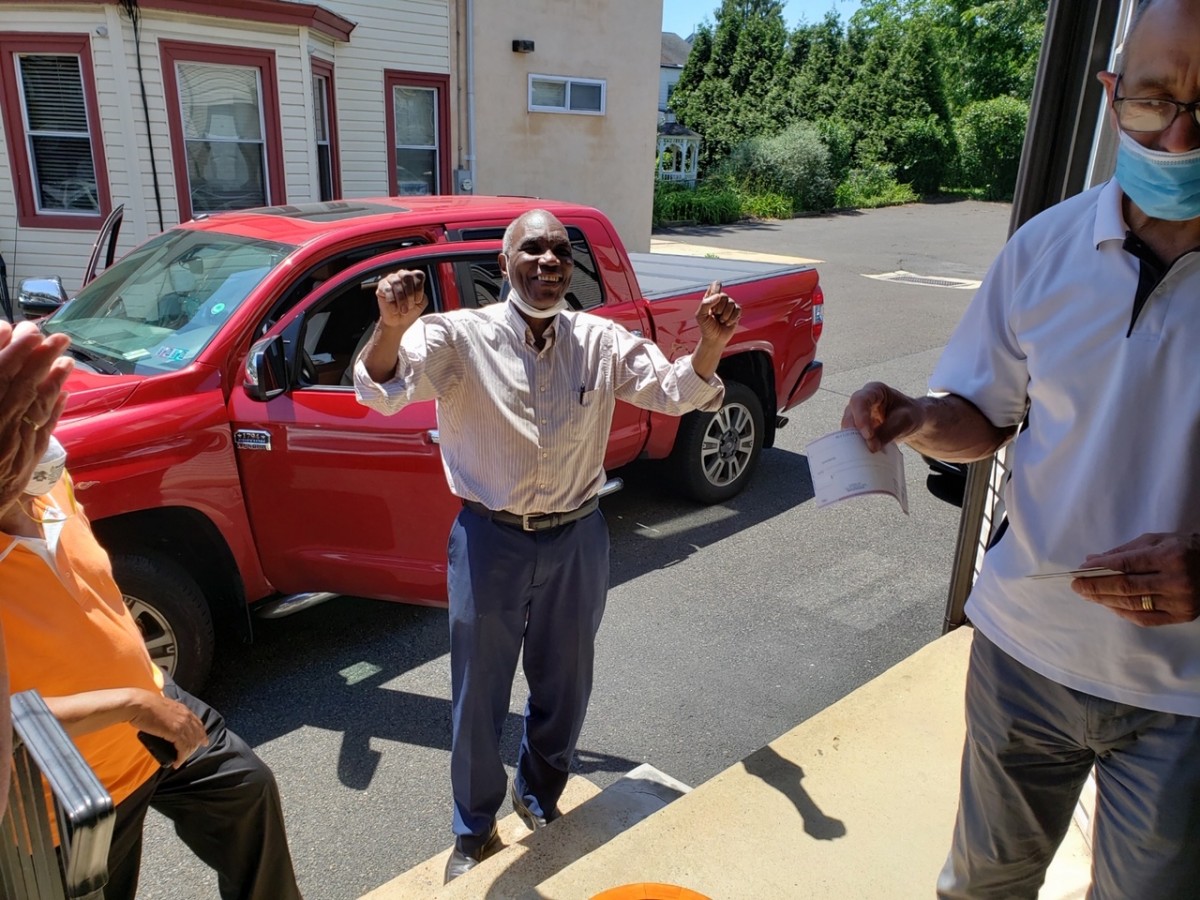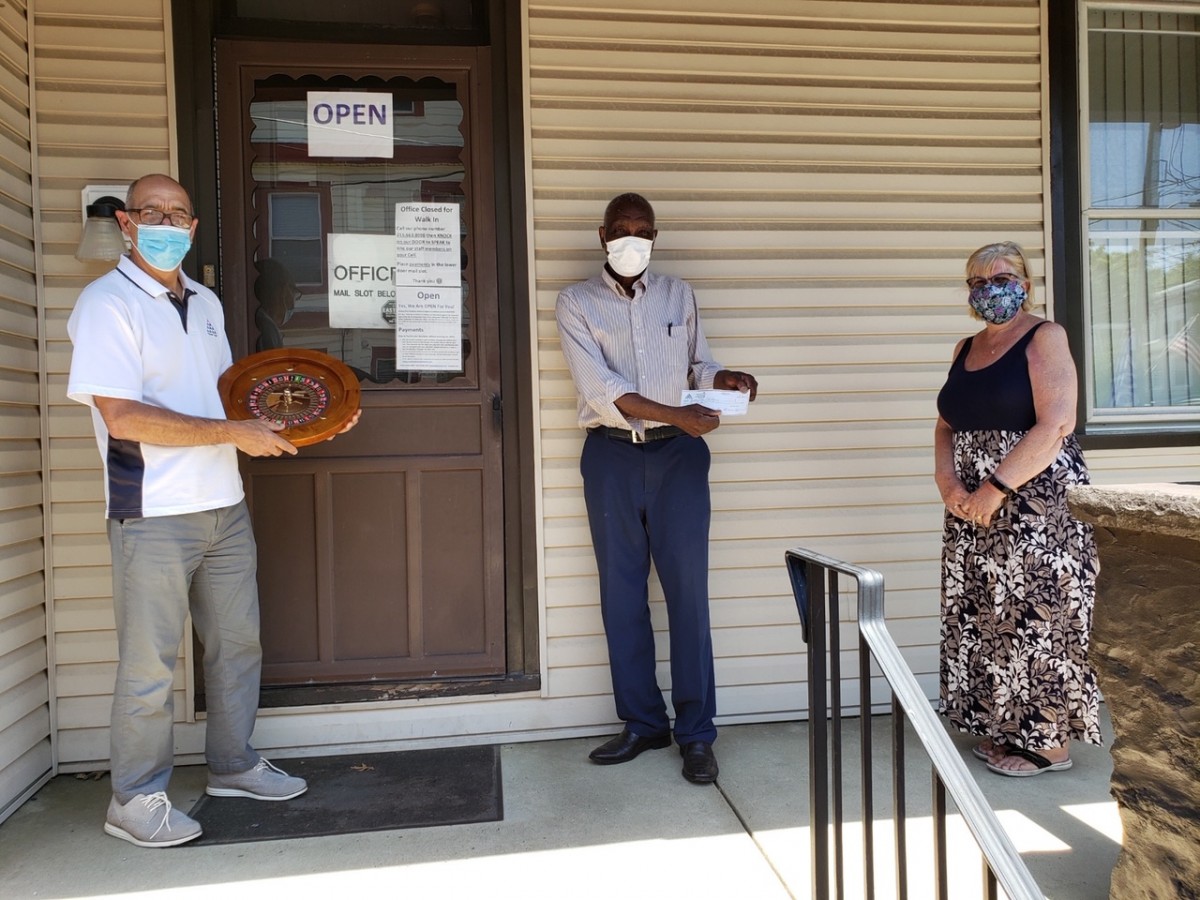 ---
Jose Rosario of 49 Stop Market is our Fall Winner of $100 cash. He spun the roulette wheel and it landed on red. Jose a long time PGI, LLC insurance customer referred to us Ramon Caba. Jose we thank you for your continued confidence in our agency.
---
Darryl Dixon of Dixon's Cleaning Service is our Summer Winner of a $50 gift card. Darryl referred Edward Cole of SBE Cleaning to us for contractors liability. Darryl has been a customer of ours since 2016. Thank you Darryl for your continued confidence.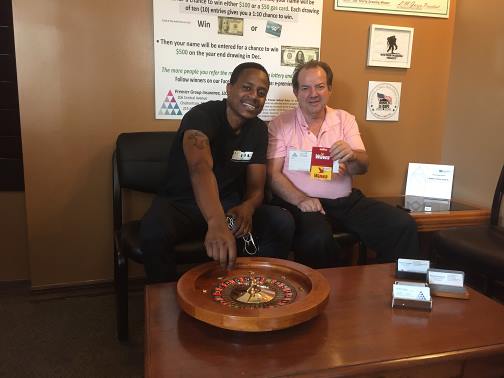 Our first Friends & Family spin winner of the year! Our Day care owner customer Ms. Moneek Pines. Moneek, thank you for referring your other Day Care owner friends. And presenting the award for Moneek is our own Kate Reber.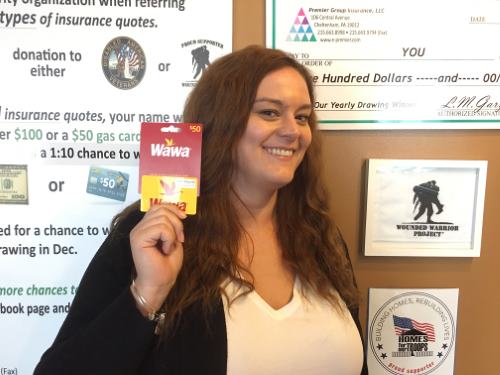 ---
Tameka Bowman of Young Academic Achievers Daycare is our end of year winner of $500! Thank you Tameka for all your support and for your confidence referring people to be helped by our agency.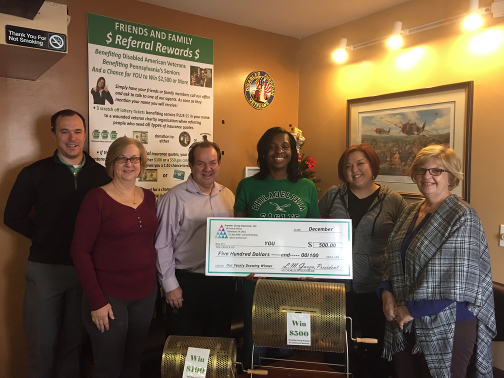 ---
Phil Perilstein is our 2018 Fall $100 winner by referring his father Joel Perilstein for commercial office insurance. Joel is an attorney in Elkins Park.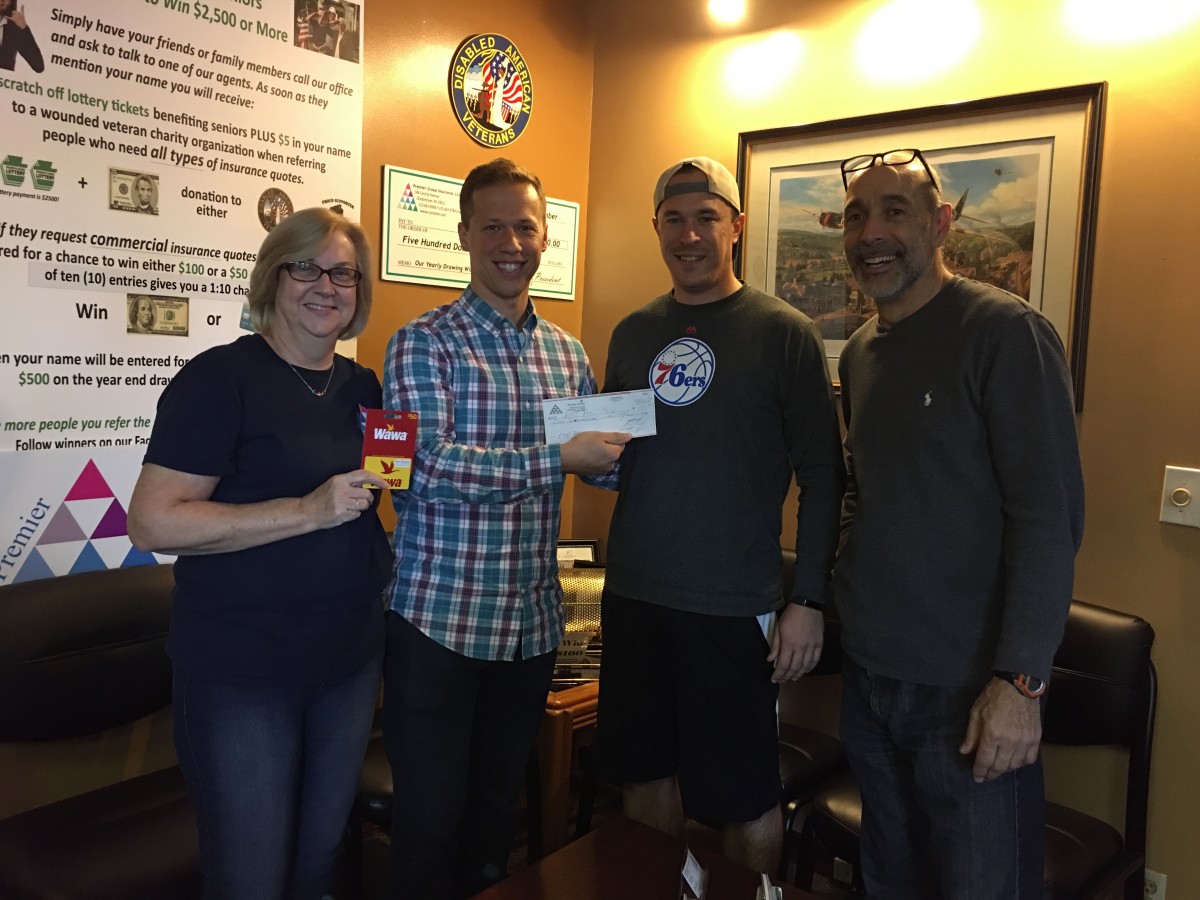 ---
Tameka Bowman owner of Young Academic Achievers Daycare is our Summer of 2018 winner for $100 when the ball landed on a red color.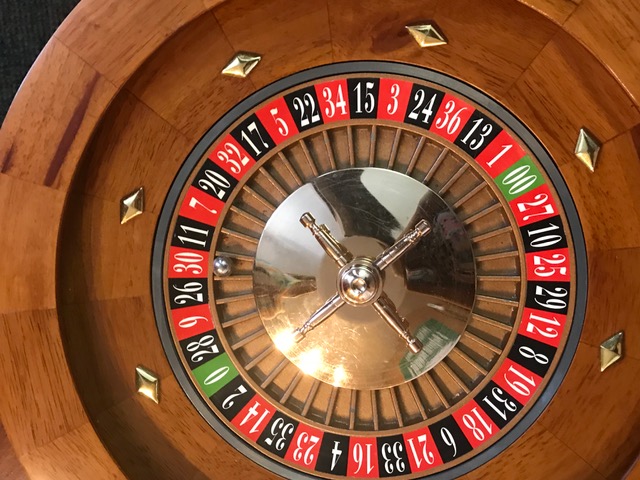 ---
Joanne Hasnik - our first commercial insurance referer winner of 2018.
---
And now our 2017 year end $500 drawing winner for commercial referrals is Joycelyn Vanish. Joycelyn has been a long time customer who referred her commercial barber shop tenant to our office.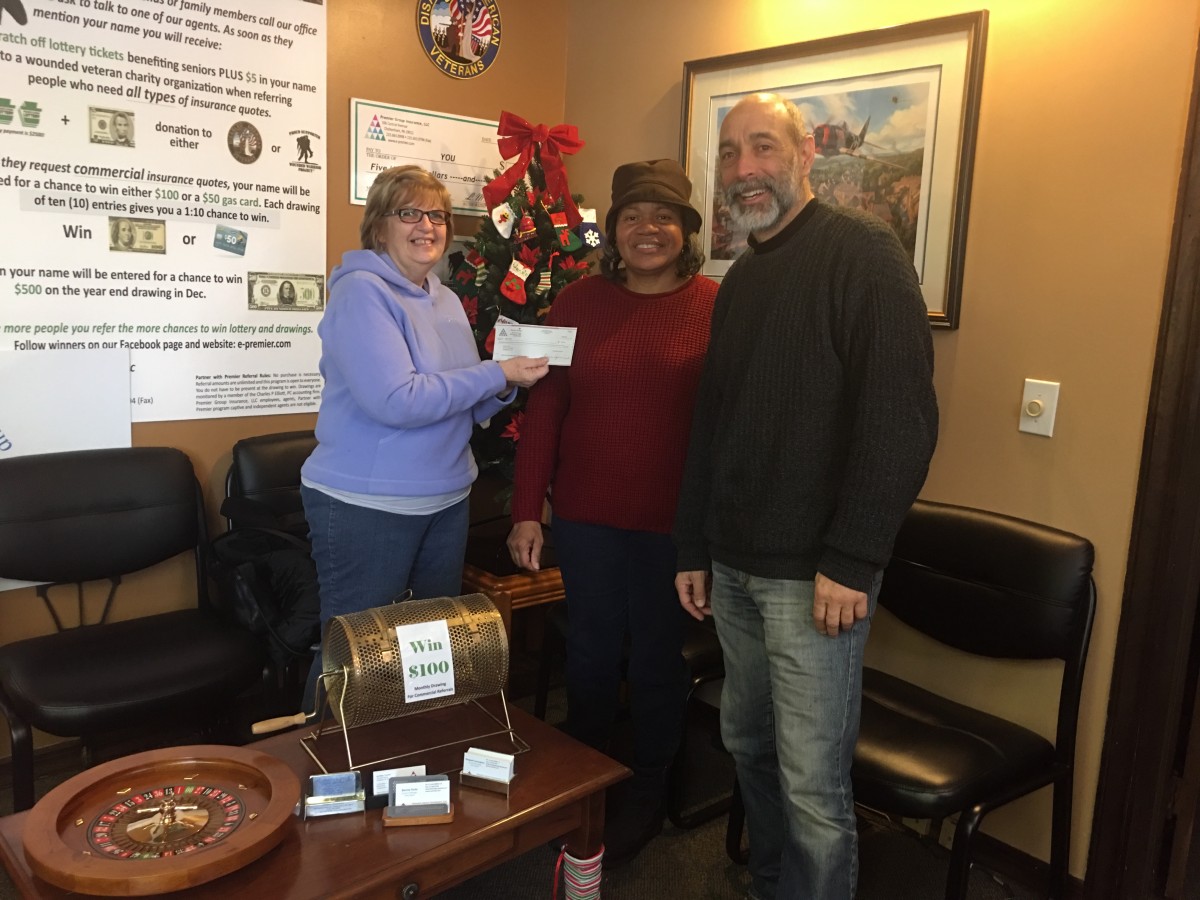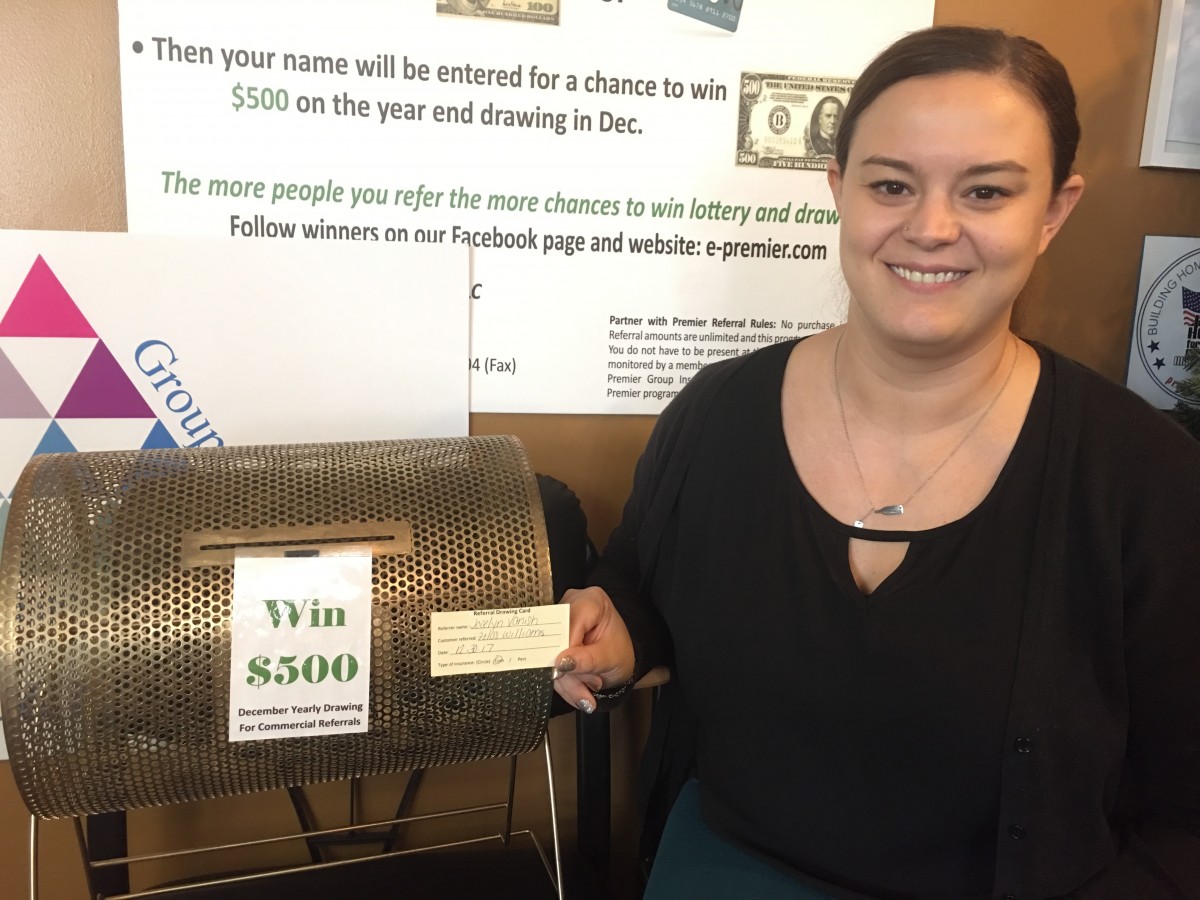 ---
Our Winter December 2017 winner is Mark Shearman. Our sales agent Gene Mattia spun the wheel and won him a $50 gift card. Mark has been a very long time customer of ours for property insurance and he referred Jim Brennan who we were also able to help. Thank you Mark! We appreciate your confidants in us.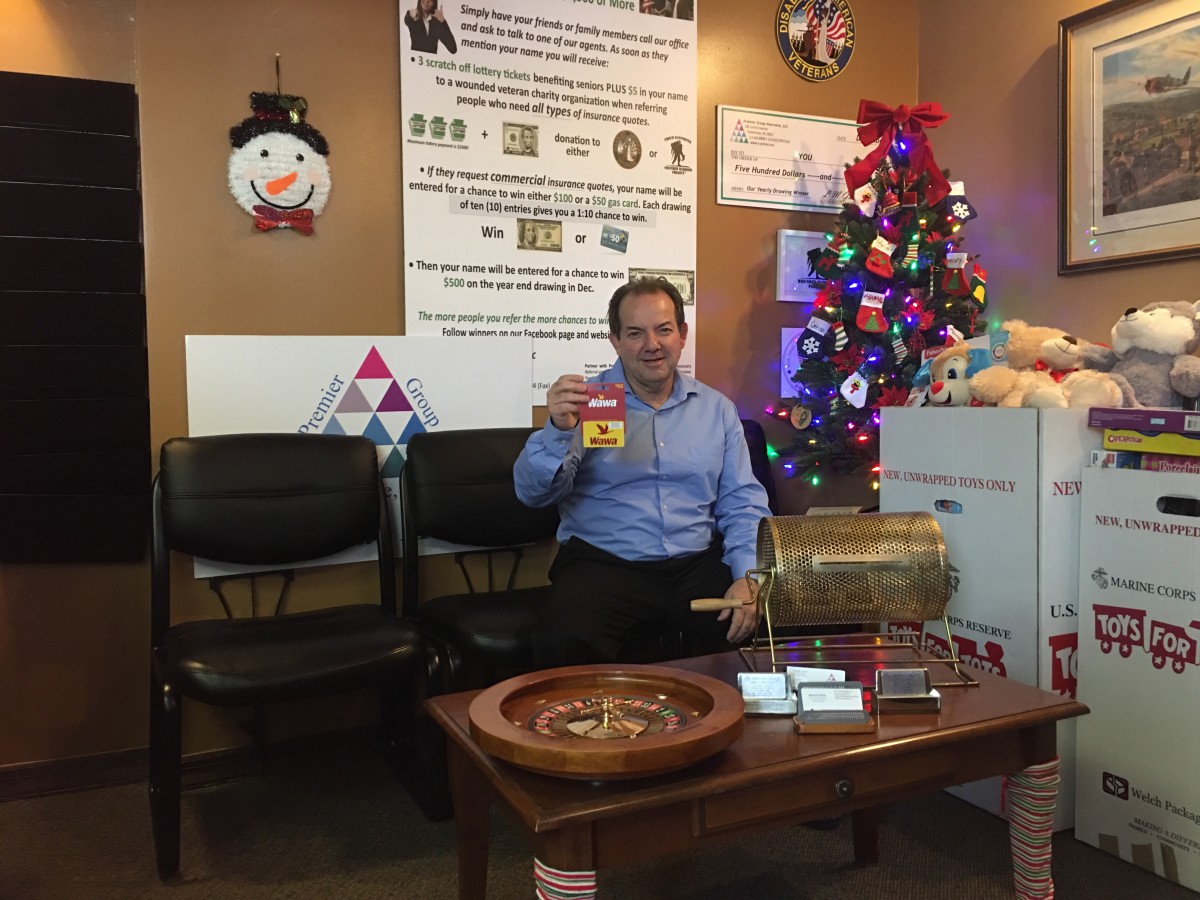 Our summer winner is Teneé K. King. She won a $50 gift card by referring Royal Mix to our agent Maureen Freeman. Congratulations and please keep those referrals coming.
Congratulations to our latest winner, William Swope. Bill has been a customer of ours since 1998. He referred Brian Dirinze. Margaret Cunningham, Bill's agent, spun the wheel for him to win a $50 gift card.
And for our 2016 End of Year Drawing picked by Maria Duignan of Charles P. Elliott, CPA........................
Is Maria Novey, Virtual Assisatant, Member of our BNI Doylestown East Professional Networking Chapter, Winning $500!
Another $100 winner. Our grocery store insurance customer, Felix Martinez of E&F Grocery in Upper Darby, referred Jose Alija Sairtahellera. Spinning for Felix is his daughter Elizabeth and accompanied by Wanda Roman and Gene Mattia.
Our sales agent Maureen Freeman spun the wheel on Aug 10th and won a $50 gift card for Brenda Goldsmith T/A A Choir'd Taste. Brenda has been a customer of PG's since 2013 and has been in business since 1998. Her company does event planning, logistics and production managing working on securing talent for events. Some of the events she is involved with are: Miss America's Outstanding Teen Pageant, Wawa Welcome America and DNC Philadelphia 2016.
Jean Coq of JC Business Center is or June $100 winner. Sales agent Kevin Connor presenting his check. Jean referred Janet Allen for commercial insurance.
Bill Jones of Jones & Sons contracting wins $100 for referring Everett Brown


David Applebaum receiving his $500 check





David Applebaum wins our end of year drawing. David is our long time customer, referrer and he is an excellent estate attorney. David referred Margie & Richard P. for commeercial insurance.


Another $100 Commercial Insurance Referrer Winner - Safiya Shabazz


Congratulations to Taneeshi Campbell who is our first 2015 $100 "Friends and Family Referral Rewards" drawing winner. Taneeshi has been a customer of ours since 2001. We thank her for her confidence in us and for her referrals. Below is sales agent Bernie Tarlo displaying Taneeshi's winnings.



And the winner was Anthony Drake who is a long time insurance customer. Tony owns a property development company and a tax service company.



End of year $500 drawing picked by Charles P Elliott of Charles P Elliot, PC Accounting and Income Tax



For October is Ben Napper of Climate HVAC Services, LLC who won $100.
For November is Christina Quinn who won a $50 Wawa gas & gift card.
Thank you both for your confidence in our agency by referring your commercial friends.



June 2014 Drawing Winner is Brenda Goldsmith. The roulette wheel was spun for $100 by her agent Maureen Freeman.



Licensed agent, Margaret Cunningham, proudly handing a check for $100 to our commercial customer contractor, Dan McVey. Dan won the July 2014 drawing by referring another contractor. We are so thankful for Dan's confidence in our agency.



Travelers representative Kristie Smith conduts the May 2014 monthly drawing monitored by Maria Duignan of the Charles P Elliott, PC accounting firm. The winner:Michelle Freeman



May 2014 Drawing Winner is Michelle Freeman of Whitty Gritty Marketing and Events. The roulette wheel was spun for $100 by her sister Maureen Freeman our sales agent.



April 2014 Commercial Drawing Conducted by Maria Duignan and Charles P Elliott of Charles P Elliott PC



April 2014 Roulette Spin Winner for $100
Angel Rodriguez owner of Cleo Patra Hair Salons


January 2014 Winner - Larry Cone - - Prize Won - $100